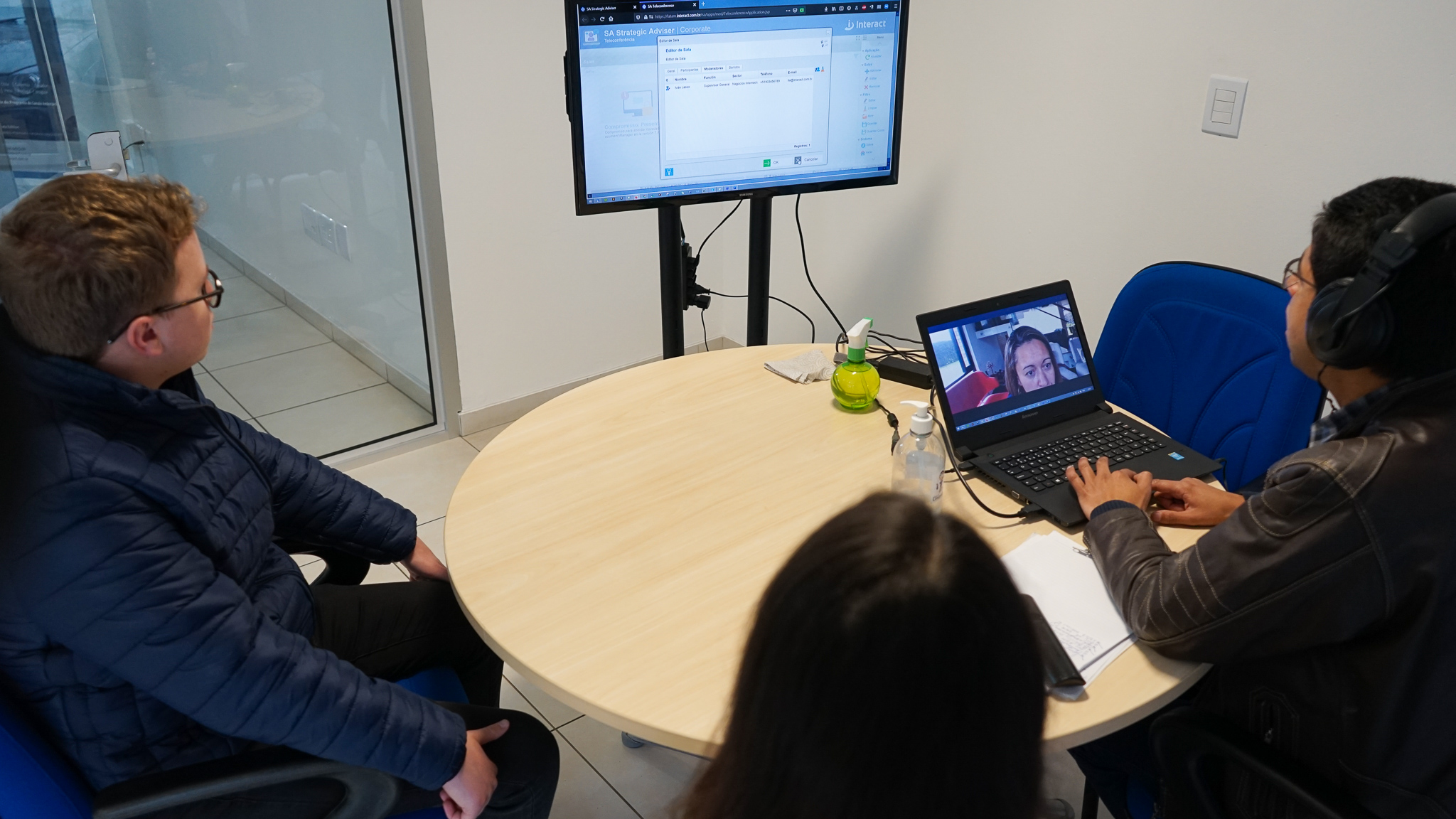 Despite the distance, remote contact has strengthened relationships through the Teleconference application
Despite the distance, remote contact has become closer. In recent weeks, the Interact Latam team has been promoting a series of meetings with international customers and distributors. The novelty is the use of the Teleconference application, available since the 7.0.25 release of Suite SA Strategic Adviser.
Based on Cloud Latam 7.0.25, the team has shown benefits and news from the last release released. According to Iván Lasso, from Interact Latam, the remote meetings serve to clarify doubts about the system, as well as to give greater confidence in the use of the product due to its integration.
In the Conference Call, rooms were created with the idea of ​​being reused from now on. For employee Lucas Saatkamp, ​​product reliability is one of the main feedbacks obtained. "This new dynamic makes contacts easier and closer with partners and customers", he comments.
Iván and Lucas' opinions are endorsed by Jennifer Vargas. "I also think that we are showing with these meetings that SA is evolving according to the needs generated by partners and customers, as well as from the demands of the current moment," he explains.
Training in spanish
In difficult times, managers invest in corporate intelligence. The client Colchones El Dorado, from Bogotá, Colombia, hired SA Analytics Manager, in addition to a set of extra licenses and remote training in the Interact module. The acquisition joins four other Suite SA modules that the customer already obtained.
With the presence of Iván Lasso, the training sessions were given by employees Rodrigo Pritsch and Arthur Saraiva, from the Project Development area. They participated in the Spanish language course offered internally to employees by Interact Latam. Divided into two meetings, there were 4 hours of classes. Recordings were made available for later consultation.
In all, 12 people were trained. Colchones El Dorado is the leading company in Colombia in technological innovation for mattresses, the first Colombian company in the industry to sell online and leaders in sales for the hotel industry. With 63 years of history, today it has 22 points of sale in the country, with more than 200 direct employees and about 600 indirect ones.
Related to Institucional Latam