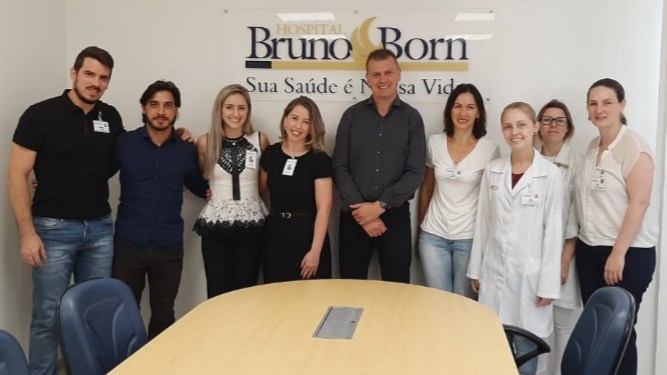 Last Wednesday, December 18, Interact formalized the delivery of the implementation project at Bruno Born Hospital. At the time the consultants Rodrigo Panitz, Ignácio D'Àndrea, under the coordination of Fabiana Brugmann delivered the project with 450 hours of implementation and customization, in addition to 71 visits to the client.
The project began on October 17, 2018, having as scope the implementation of the modules Document Manager, Occurrence Manager, Risk Manager, Project Manager, Competence Manager, Service Manager, Audit Manager and with the revitalization of the Modules Performance Manager and Survey Manager already used by the client. SA was a key part of the client's quest for ONA Level II accreditation, which was officially won after the final diagnostic visit on November 29, 2019. All processes and requirements requested by certification were demonstrated within the system, fully taking into account the functionalities to support hospital management.
According to Cristiano Dickel, Executive Director of HBB, they were able to make the teams that work at the tip, understand that what was being managed and treated in SA is of great importance for their work and, consequently, for the safety of patients. The Quality and Patient Safety team of Bruno Born Hospital conducted the project with full support from the hospital's top management, reaching all areas of the institution.
The certification attests that the institution works focused on security in all organizational processes (level 1 requirement), with the addition of interaction and integration of processes between areas. The requirement to achieve Level 2 is the existence of a planning and organization system focused on integrated management.
In June of this year, in parallel to the project already under way, consultant Sabrine Datsch started the project to implement the SA Process Manager module that will follow in 2020. The objective with the automation of processes aims at reducing roles, agility and deepening knowledge, in addition to activities of those involved in the processes seeking continuous improvement.
Accreditation is an evaluation method that seeks, through standards and requirements, to promote the quality and safety of health care. Of the state's 345 hospitals, only 18 have ONA Accreditation – and HBB becomes the sixth of a world-class group to win Level 2. And the only hospital in the Taquari and Rio Pardo valleys to have certification.