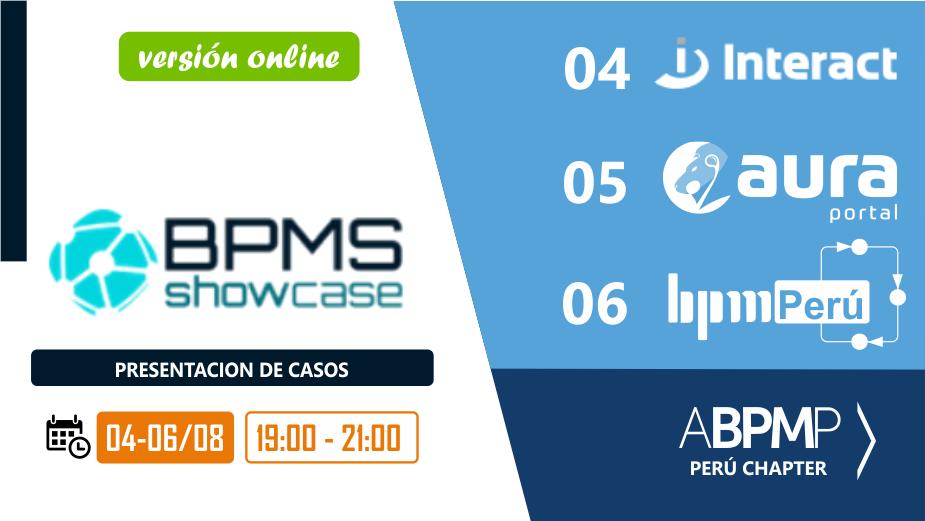 On the 4th of August, Interact will open the BPMS Showcase – 1st Case Presentation Day, an event organized by the ABPMP chapter of Peru. Represented by Interact Latam, the international business area, the company was one of three invited to present its Business Process Management Suite, the software SA Process Manager.
Interact Latam Director, Fernando Estrada, and International Business Analyst, Iván Lasso, will be the presenters of the event. A case using Interact's BPM software will be presented, which brings together in practice the perspective of process architecture, from the strategic level to the operational scope of an organization.
The event is aimed at managers, entrepreneurs and those interested in process management. Registration is free, with charge only for issuing a certificate of participation for non-members of the ABPMP Peru Chapter. The chapter brings together Peruvian professionals from different areas committed to improving organizations through the application of good practices in process management, established by the ABPMP.
Historic in ABPMP
In recent years, Interact has increased its participation in events in the ABPMP chapters. In 2015 and 2016, the company sponsored BPM Day in Porto Alegre, capital of Rio Grande do Sul, in Brazil. The following year, Fernando Estrada presented a success case at the event. In 2019, he participated in the 1st International Business Process Management Congress, BPM Day Lima, organized by the chapter of ABPMP Peru.
On the occasion, Fernando presented the success case of the Universidad Tecnológica Indoamérica, which attended to process management with the 3P's Office solution. Interact was also one of the sponsors of the event, that featured lectures on Government 4.0, BPM and digital transformation, application of BPMS technologies and presentation of successful cases with BPM.
Learn more about SA Process Manager

SA Process Manager is an innovative tool in management by organizational processes. In an integrated way, it allows mapping, optimizing and monitoring the execution and results of the organization's main processes, uniting Process Management and continuous improvement with the organizational culture.
Developed based on the BPM – Business Process Management methodology, SA Process Manager enables the improvement of business performance through the automation of processes, resulting in better business management, with the measurement and control in the execution of tasks.
Benefits and features
Creation of forms, business rules and subprocesses
No code and customization required
Reduction of the total time of implantation, increasing the productivity of the organization
Definition of the role in a target activity
Management and improvement through analysis of historical data
Identification of responsible users, areas and managers at each stage of the process
Semaphores of action, which allows to act and manage each of the evaluated processes
Allows definition of access to process attributes (visualization and/or modification) by activity
Datas for indicators are collected automaticaly
Real-time monitoring of the organization's processes
Strategic data generated in SA Performance Manager, providing an integrated Business Activity Monitoring (BAM) system
Control and identification of process bottlenecks
Enable corrective measures so that the process reaches its final objective, without negative impacts to the organization
More efficiency through process automation
It preserves investments, keeping all the knowledge of your business independent of constantly changing technologies
Related to Institucional Latam