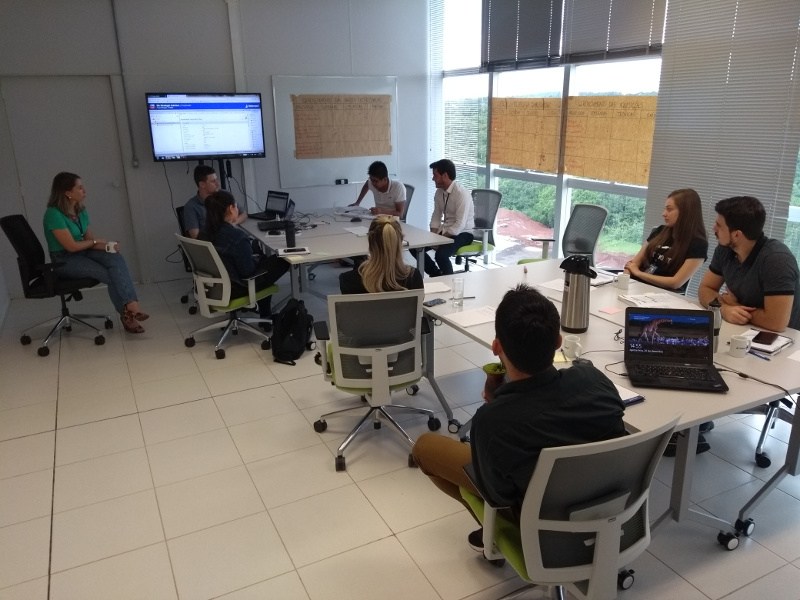 The Client Projects team promoted on the 21st the first Project Management Hackathon. The activity is a continuation of the seminars on the subject held throughout the semester, based on practices recommended by the Project Management Body of Knowledge (PMBOK) project management institute (PMI).
In this first stage, five out of ten knowledge areas of the PMBOK were addressed. The contents were discussed in relation to the SA Strategic Adviser Suite, especially the SA Project Manager module. The proposal is to complete the equivalences at the next meeting.
According to the coordinator of the area, Fabiana Brugmann, the Project Management Hackathon aligns with Interact Bridges research and innovation objectives. The results of the activities will make up the support materials and dissemination content of Interact's Project Management solution.
The first Project Management Hackathon was attended by collaborators Emily Perin, Fabiana Brugmann, Ignácio D'Andrea, Ismael Alves, Iván Lasso, Natállia Petry, Rafael da Silva, Rodrigo Panitz, Sabrine Datsch and Vinícius Flôres.
What is a hackathon?
Hackathon is a term used to describe a programming marathon (hack + marathon). Originated in the United States, the expression differs from similar events, especially because it has very specific themes, number of participants and objectives.
Related to Project management