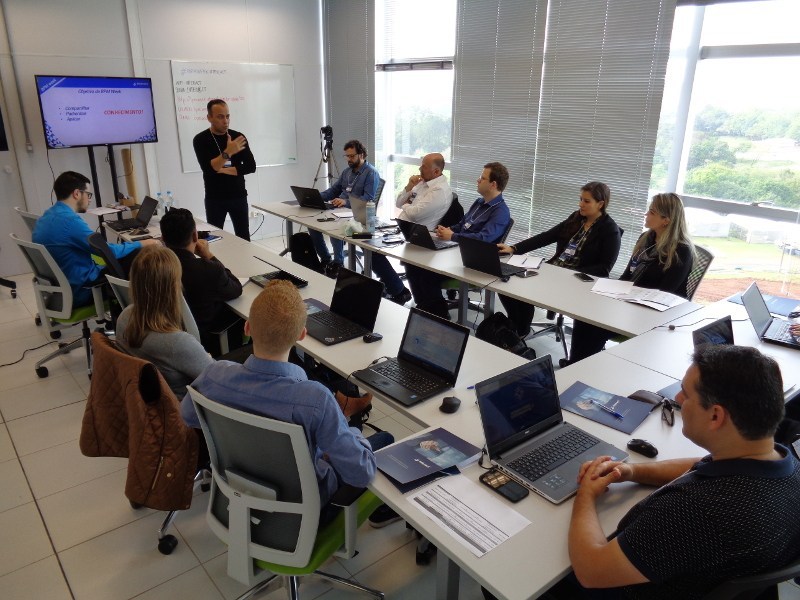 A week of process learning. This will be BPM Week, an intensive seminar on bpm methodology – Business Process Management (in Portuguese) promoted between 17 and 21 by Interact, a software research and development company.
Representatives of Units and partners from São Paulo, Minas Gerais, Paraná, Brasília, Rio Grande do Sul and even Paraguay are present. The event takes place at Interact Bridges, the company's Research, Innovation and Internationalization Unit, in the Taquari Valley Scientific and Technological Park – Tecnovates, at Univates, in Lajeado (RS).
Interact's BPM Week seeks to tie theoretical deepening with practical activities, dynamic exercises and case studies. The actions are linked to Interact's Process Management solution, which integrates tools to manage organizational processes, in line with the BPM methodology. The technology solution automates, maps, and tracks an organization's execution and results.
Motivations of participants
The expectations for BPM Week are the most diverse. For Hercules Alex Borges, Senior Programmer of partner Datapar, paraguay, the aim is to deepen the knowledge in BPM. "For two months we have been implementing BPM in our company. This activity is part of a strategic change adopted by Datapar", he comments. In April, Interact formalized a partnership with the Paraguayan company.
Hercules' perception is shared by João Carlos Villela, Project Director of the Interact Paraná Unit. "The main goal of making the trip, coming here and integrating this week is to understand the Module SA Business Process Manager. I see unbelievable potential in terms of application," he says. Earlier this month, a client of the Unit stood out nationally with an accreditation.
For Vinicius Schaffer, Business and Project Analyst of the Advance SP Unit, the main objective is to understand BPM as a solution. "The expectation of coming here was very high, both of us and our colleagues, mainly by the idea of delivering the solution and not just modules anymore. The solution is that it will provide our growth and Interact as a whole", analyzes. The Unit stands out for several nationally and internationally renowned clients in the health sector.