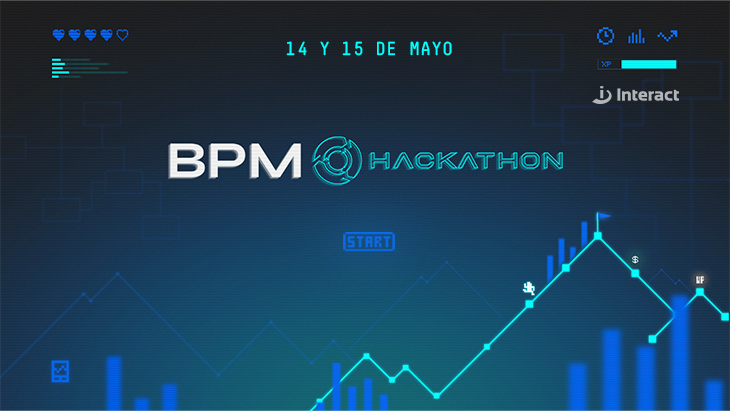 Event takes place on May 14 and 15, in partnership with ABPMP Peru and UNIR – University of La Rioja
A new challenge has been launched for lovers of process creation and digital transformation. On May 14 and 15, Interact, through Interact Latam unit, promotes the 1st BPM Hackathon. The online event, also promoted by ABPMP Peru and supported by UNIR – La Universidad en Internet, will feature lectures and workshops aimed at solving problems of four real international companies, and will make a unique connection between Latin America and Europe.
BPM Hackathon was designed to bring together students, consultants, professionals and any person interested in developing process management and innovation. It is focused on those who seek innovative solutions in the face of the current challenges of the main economic sectors.
"BPM Hackathon is a continuation of a series of events that we have developed since 2018, when it began with BPM Week in person, and have had a sequel in the last 4 years," explains The Director of Interact Latam, Fernando Estrada.
For him, the events stand out for the fact that they have as main objective the dissemination of knowledge about bpm process management to companies and also for bringing Interact's expertise to other places.
"Interact is taking an increasingly leading role in the BPMS solutions market and this type of event helps us consolidate the Latin American market."
Who can participate?
BPM Hackathon was made for everyone, regardless of the level of knowledge, experience and/or academic background.
"It doesn't matter if you're in the business, technology, communications or beginning in the BPM world. This Hackathon was developed so that everyone can participate", says the Team Interact Latam.
During the meetings, people will learn to demystify and present creative and innovative solutions when dealing with business processes and Digital Transformation needs.
"They will have in hand real cases of international companies to put into practice their knowledge and skills learned over the weekend."
BPM Hackathon Schedule
BPM Hackathon begins with the lectures of Pedro Robledo, who will talk about "BPM for Digital Transformation", and Gabriel Rovayo, with "EFQM and Processes – axis of transformation".
Then the participants will know the challenges of five companies from four different countries, with which they will develop their projects.
Estrada reveals that one of those involved is rpa rocketboot, which will bring a challenge to the banking sector. "This event format is hands-on, where participating teams will compete to come up with agile and simple solutions, but that help companies improve their business processes."
Are you ready for the challenge?

To participate in the event it is necessary to register in the button below. The registration fee will be $10 for the general public. UNIR students earn free registration.

For more information, contact Interact Latam team at +55 (51) 3710-5100 or 0800 643 5100.