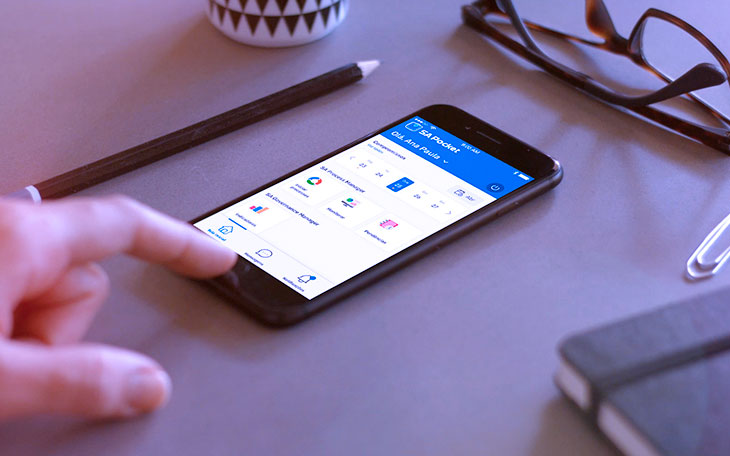 The use of smartphones and applications is increasingly present in the routine of companies, as is Suite SA. With that in mind, and to celebrate the 23 years mark, Interact Solutions brought together the two market trends and launched the new mobile version of its Suite. SA Pocket, as the tool is known, brings exclusive management applications and brings together functionalities for managing processes, managing indicators and audits.
The idea of ​​SA Pocket came from the need for customers to have access to the features of the SA Suite quickly and securely, anytime and anywhere. "The main motivation for the creation came from the need to have an application with access to native features of mobile devices, such as the camera, GPS and especially remote notifications", explains Interact software architect Douglas Schneider.
According to the software architect, the new tool centralizes the old "SA Mobile" line in a single environment, which had four different applications to remotely perform management tasks.
In addition, SA Pocket was built so that its interface and application modeling are practical, highlight the most relevant data for the customer and allow them to perform actions with a few clicks.
"Our biggest inspiration for creating the application was, mainly, to bring practicality and mobility, as well as adapting the product to new concepts that appear in the market, increasingly concerned with usability and user journey", says the web designer analyst at Interact, Natalia Landmeier.
Another highlight of the new application is its data security, after all, all traffic carried out between the SA Suite and the SA Pocket is encrypted and uses the TLS/SSL protocol. That is, both the application and the software protect the integrity and confidentiality of customer data.
In order for this safe construction to be possible, from the beginning of the project, customers were heard and different teams were involved, in order to adapt the tool to the most diverse work routines and, thus, build an innovative product.
Who can use SA Pocket?
Any company can use SA Pocket, as long as it also uses the SA Suite. In its first version, the application adheres to the SA Governance Manager, SA Process Manager and SA Audit Manager modules. Therefore, customers who have these modules can request the mobile version, with their own licensing. SA Pocket is available for android phones and iOs.